Get broad insight into your suitable candidature.
Guidelines to Write a Good Letter of Recommendation:
After applying for several institutions for overseas education, you may have heard a lot about something called the letter of recommendation. Just like the name suggests, a letter of recommendation is a letter that recommends a student, employee, colleague, or co-worker. It is sometimes referred to as a letter of reference or LOR in short. When sent to a student, this letter allows the admission committee to know and understand more about the candidate. Needless to say, this is an amazing tool to highlight the positives and most powerful facts about the candidate from the perspective of their superior faculty. This is the most crucial reason why candidates may encounter rejection or refusals. 
Steps to Write a Good LOR
There are numerous principles and things to be kept in mind when drafting a letter of recommendation. These criteria assist the admission committee to acquire a deeper insight into the candidate and the significance of the recommendation. So, when you ask somebody to write a recommendation for you, ensure it has the essential elements:
In an essence, the perfect recommendation letter comes from someone who agrees to write without being forced to. Make sure you take a sufficient amount of time to write a Letter of Recommendation which would be around 200-250 words. A jumbled-up, hastily written letter is worse than writing nothing at all. A recommendation should come from someone with authority and status since this will give the letter more weight. As a result, be exceedingly cautious about who you ask to write you a recommendation letter.
A well-written favorable recommendation letter may go a long way toward ensuring that your application is accepted. If you want any assistance with your letter of recommendation, please contact one of our counselors who would be happy to assist you.
Check Out the Sample letter for your Reference: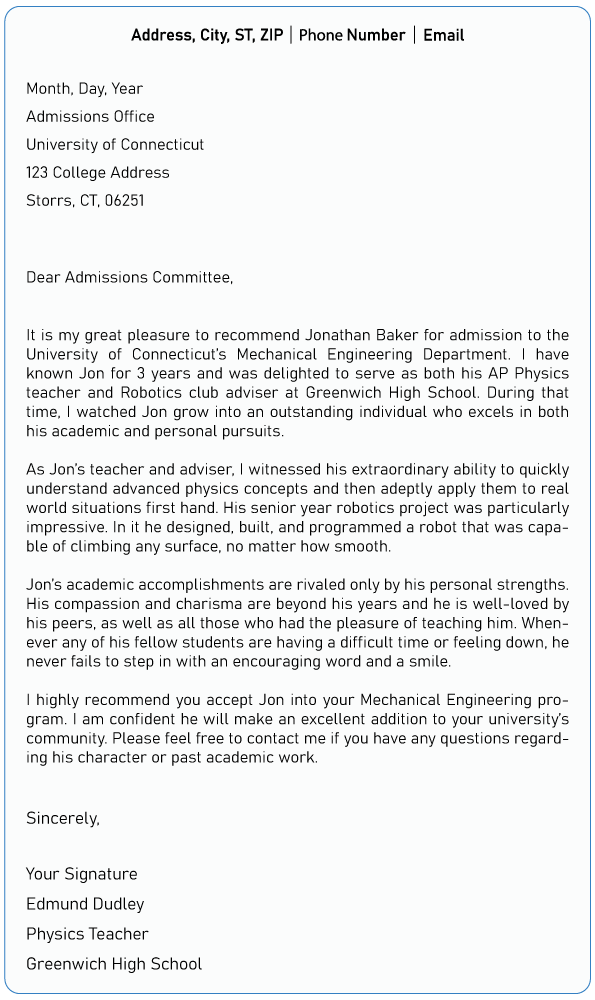 Note: When it comes to responding to the Covid-19 outbreak, Overseas institutions has done all they can to keep students safe while still providing the world-class instruction for which they are recognized. Feel free to connect with us for knowing the latest updates and several Covid-19 support services which have been put in place by universities for foreign students.